Power CrossFit – CrossFit
Warm-up
WARM-UP (No Measure)
Row 1,000 m

50 Double unders

Crossover activation
2 rounds not for time of:

10 air squats

10 butt kicks

10 lunges let opposite elbow touch the ground

10 calf stretches
MOBILITY:

Couch stretch

Hip flexion with external rotation

Foam roll any sore spots

Forearm stretches

Ask your trainer about other band stretches and the Lacrosse ball
Metcon
Metcon (AMRAP – Reps)
"Strongman Style"
AMRAP 20:

20 meter – Prowler Push (45/25 added to prowler)

5 – tire flips

20 meter – Farmers Carry (50/35)

20 meter – Yoke Carry

20 meter – Gun Walk (45/25)
Every meter = 1 rep
Whats the first word in strongman? STRONG! Make all these movements as heavy as possible without sacrificing form!
Yolk Carry:

Guys add 180lbs (4 – 45's)

Ladies add 100lbs (4 – 25's)
Gun Walk:

Hold 45/25lb plate in front of you while pinning your elbows to your sides and walk 20 meters. This will burn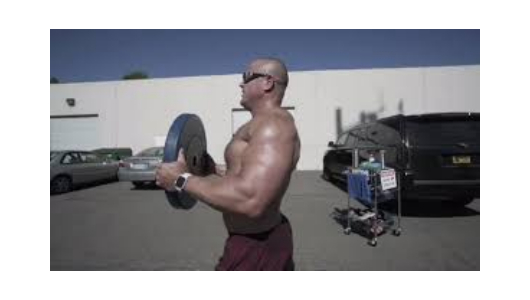 This is Mark. Mark is performing the gun walk exercise. Mark is not cheating by resting the weight on his body. Be like Mark!